CHAMBER DRYING (KILN DRYING)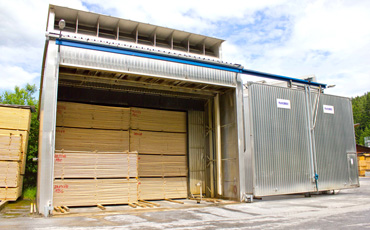 We can also offer you all deliveries chamber dried throughout the year. Timber can be offered with a moisture content between 8% and 22%.
The costs for kiln-drying depend on the time which the drying process takes.
In general dried timber is offered green tally. On request we also can make net tally offers.
DIFFERENCE BETWEEN GREEN AND NET TALLY
Green Tally means that the sizes are produced and invoiced according to the customer´s request. Depending on the moisture content the timber shrinks approx. 8% after drying. This way of calculation is approx. 8% cheaper, but the customer receives the shrinked sizes.
Net Tally means cutting the timber approx. 8% oversized. After drying the size will be equivalent to the ordered and invoiced size. The price will be 8% higher to cover the oversizing.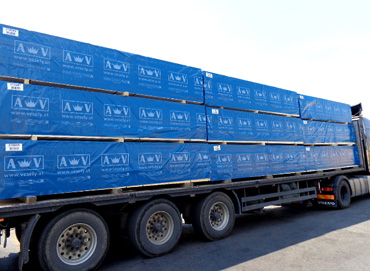 PACKING IN PLASTIC FOIL
On demand we can cover the bundles with an up to 6 month UV-resistant plastic foil subject to a surcharge.
This packing protects the dried timber against weather influences in case of storage outside.